In 2014, the Iowa Geological Survey transitioned from its former home at the Iowa Department of Natural Resources to the University of Iowa and IIHR—Hydroscience & Engineering (IIHR). The "new" IGS now employs 10 geologists who continue to support research at IIHR with expertise in Iowa's earth and mineral resources, groundwater modeling, and more.
Focus on Water Processes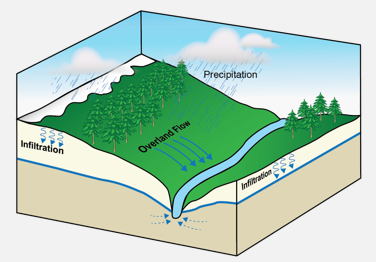 These capabilities, in collaboration with IIHR's expertise in fluids-related research, are contributing to advances in research focusing on hydrological and surface water processes, including river mechanics, remote sensing of rainfall, and watershed processes.
"Bringing IIHR and IGS together continues to strengthen both organizations and provides even better service to Iowans," says IIHR Director Gabriele Villarini. "The IGS has a rich history, remarkable set of skills, and excellent people; it seamlessly blends with ongoing activities and expertise at IIHR, while retaining their core competencies. It is a fantastic asset for IIHR, the University of Iowa, and the State of Iowa."
Surface to Subsurface
With the IGS on board, IIHR expertise covers all aspects of Iowa's hydrologic cycle — precipitation, evaporation and evapotranspiration, surface flow, infiltration, and groundwater flow. This scope facilitates collaborations and allow researchers to develop the best possible water-related information, analyses, and tools for Iowans.
Together, IIHR and IGS are developing a comprehensive understanding of Iowa's water in all its forms, making it possible to address a wide spectrum of water-related concerns, including conservation, quality, and quantity.