Floodplains are important sinks for water, sediment, and nutrients during flooding and non-flooding periods.
Biogeochemical processes can vary in space and time in floodplains, and exchange of water and nutrients between surface water and groundwater can be quite rapid because of factors such as a fluctuating water table, nutrient availability, redox conditions, and plant water demand. IGS researchers, led by Keith Schilling, are documenting and modeling the water and nutrient processes occurring in floodplains and evaluating their role in local, state, and national nutrient reduction strategies.
Projects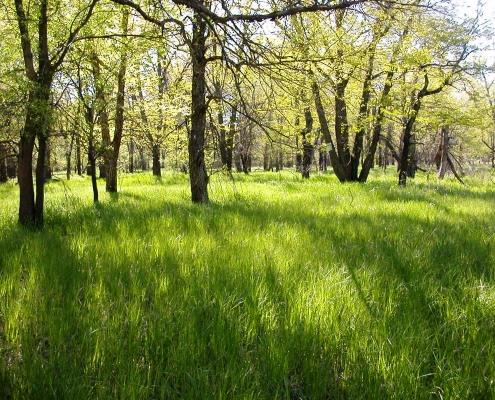 Sponsor: The Nature Conservancy and Grinnell College
Background: Research in the Lower Cedar River region of southeast Iowa has investigated: water and nutrient processing during flood and non-flood periods, spatial patterns of topography and water quality, and temporal variations of dissolved oxygen fluctuations in shallow groundwater.
Goal: To study and understand biogeochemical processes in floodplains and how the exchange of water and nutrients between surface water and groundwater occurs.
IGS Strategies: Document and model the water and nutrient processes occurring in floodplains and to evaluate their role in nutrient reduction strategies.
Project sites have included a groundwater fen, a floodplain savanna, and a land cover conversion to cropland. Floodplain studies also include a specific focus on riparian zones and oxbows (see below).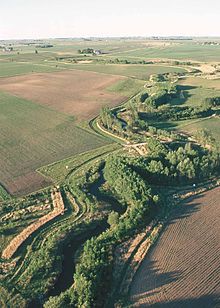 Among agricultural best management practices, establishing a riparian buffer adjacent to a stream is considered an effective method to reduce nutrient export. IGS researchers, led by Keith Schilling, are evaluating appropriate locations for riparian buffers and assessing factors that affect buffer performance.
Studies have included investigating riparian zone hydrology, sedimentology, water quality, and the effects of channel incision (downcutting) on riparian systems.
In one recent study, Schilling and others compiled data from many riparian zones across Iowa to determine scaling conditions and identify locations for optimal riparian buffer placement.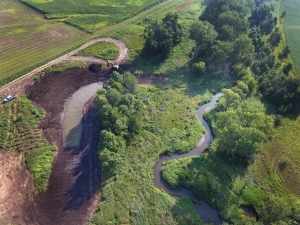 Oxbows are natural floodplain features formed when a river cuts off a meander loop as it migrates within its floodplain. Natural oxbows are among the most biologically diverse aquatic systems in the world, but accumulation of sediment and organic material often fill the oxbow over time, and the systems transition from a lentic to terrestrial habitat. Removing the oxbow fill material and restoring the lentic habitat is considered oxbow reconstruction (see figure).
IGS has worked with partners including The Nature Conservancy, Iowa Soybean Association, U.S. Fish and Wildlife Service, and Linn County Conservation Board to monitor oxbow restorations in central and eastern Iowa.
At the central Iowa site, IGS monitored an oxbow that was reconstructed to receive flow and nutrients from subsurface field tiles. At the eastern Iowa site, IGS reconstructed the oxbow to receive inputs from groundwater seepage and overbank flooding.
IGS research has shown that oxbows fed by tile drainage provide greater nitrate mass reduction than oxbows fed by flood pulses and groundwater. Data from these oxbow studies are being used to develop a new INRC conservation practice centered on oxbows. Study results were published in Ecological Engineering and Journal of Environmental Management.
Recent Publications
Schilling, K.E., Haines, B.J., Jones, C.S. and St Clair, M. 2018a. Effectiveness of a newly reconstructed floodplain oxbow to reduce NO 3-N loads from a spring flood. J. Environ. Man. 215:385-393.
Schilling, K.E., Kult, K., Wilke, K., Streeter, M. and Vogelgesang, J. 2017. Nitrate reduction in a reconstructed floodplain oxbow fed by tile drainage. Ecol. Eng. 102:98-107.
Schilling, K.E., Kult, K., Seemon, A, Wilke, K and Jones, C. 2018b. Nitrate-N load reduction measured in a central Iowa restored oxbow. Ecol. Eng. 124:19-22.