Welcome to the Iowa Geological Survey website!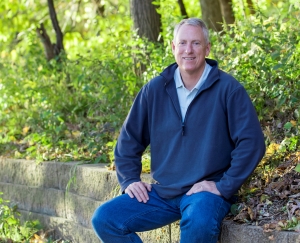 As state geologist and director of the Iowa Geological Survey, it is my pleasure to welcome you to our website. It's a great repository for all things related to Iowa geology and water resources, and I'm confident you'll find a lot of interesting information to browse through. You'll see that the site is organized around four main pillars of information exchange: research, services, popular interest, and data and resources. Because IGS has been around since 1892, we have a lot of great general information and publications related to Iowa to share, and this information can be found in our popular interest section, which includes such diverse topics as fossils, landforms, minerals, Iowa parks, and (of course) our state rock, the geode. We think you'll enjoy browsing through these topics and more as we continue to add new materials as time allows.
Research has always been an important component of IGS' work, and the list of publications, reports, and maps produced by IGS staff over the last century is impressive. IGS is actively conducting applied and foundational research on many topics, and links to many of these project areas can found under the Research tab. We encourage everyone to visit our publications page to get a glimpse of the scope and breadth of research conducted by IGS on Iowa-centric topics. Likewise, clicking on the tab for data and publications will introduce you to a series of interactive maps, publications, and databases that can help you dig deeper and learn more about Iowa's geology.
As IGS moves into its next century of service to Iowans, we believe it is also important to use the website to highlight the availability of fee-for-service projects that IGS can perform for private clients, individuals, and government agencies. The IGS possesses advanced expertise, instrumentation, and equipment that can provide critical information to aid client planning and decision-making efforts. Popular services include groundwater modeling, geophysical analysis, drilling and sediment analysis, and geologic mapping. We welcome the opportunity to work with clients to meet their individual needs and encourage anyone interested to reach out to the IGS to obtain a quote for services.
Lastly, I want to thank the folks that have made this IGS website possible, including our partners at IIHR—Hydroscience & Engineering and the College of Engineering at the University of Iowa. Also, as we move into the future with this website, it is also important to acknowledge the long and storied past of IGS and the contributions made by geologists and staff over the last century. We truly stand on the shoulders of giants as we carry on their work to know more about Iowa's natural resources. We appreciate your interest in the IGS and look forward to hearing from you!
Keith Schilling, State Geologist of Iowa
You can also contact us through our social media accounts (Facebook and Twitter).