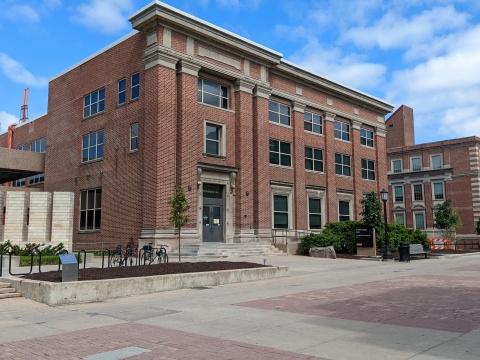 Trowbridge Hall
300 Trowbridge Hall
123 North Capitol Street
Iowa City, IA 52242
The primary home of the Iowa Geological Survey is on the third floor of Trowbridge Hall on the main campus of the University of Iowa (UI) in Iowa City, Iowa. Built in 1916 to house the UI College of Dentistry, the building was reconfigured for the UI Department of Geology in 1973 and renamed Trowbridge Hall in honor of Arthur C. Trowbridge; a professor of geology at the UI from 1911–65 and director of the Iowa Geological Survey and state geologist from 1934–47.
Visitors to Trowbridge Hall:
Trowbridge Hall is conveniently located adjacent to the Iowa Memorial Union parking ramp for easy access to visitors driving from out of town. Entering the building through the main entrance on the east side of the building from the T. Anne Cleary Walkway, head up the main stairs to the third floor. The main office is through the door at the top of the stairs and to the right.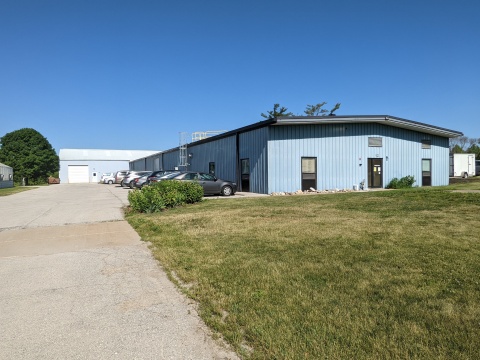 Oakdale Iowa Geological Survey
University of Iowa Research Park
100 Oakdale IGS Building
2390 Old Farmstead Road
Iowa City, IA 52242-1304
The Oakdale Iowa Geological Survey (OIGS) building is on the west edge of the University of Iowa Research Park. The building houses the Iowa Geological Survey's (IGS) Rock Library, which is the repository for driller's logs, well cores, well chips, and rock specimens from exposures throughout Iowa. Additionally, the building is also used for publication and file storage, equipment maintenance and storage, and fabrication of equipment.
Visitors to the Oakdale Iowa Geological Survey building:
OIGS serves as the principal office site for several IGS staff, but staff members are not always onsite or available to assist visitors. Any person wanting to visit and utilize the OIGS facility must prearrange their visit with IGS to ensure a staff member will be available to assist. Sampling must adhere to established IGS sample policy. Facility operating hours are 8 am–4:30 pm Monday through Friday.