Escape to Ledges State Park
Looking to reconnect with nature during these unprecedented times? Consider a visit to Ledges, one of Iowa's oldest state parks. Dedicated in 1924, Ledges State Park encompasses 1,117 acres of land in south-central Boone County, approximately 15 miles west of Ames.
The name itself, Ledges, is an indication that the terrain of the park is quite unusual, given its location within the Des Moines Lobe landform region of central Iowa. The bluffs exposed along Pea's Creek are made of sandstone of the Cherokee Group, which also consists of shales, limestones, and coals deposited about 310 million years ago during the Pennsylvanian Period.
These sandstones were initially deposited as sand in a river delta environment during a time when the sea level changed rapidly. Once buried, these sands were cemented (lithified) with calcium carbonate precipitated by groundwater. The lower portions of these channel sandstones have a reddish color because the calcium carbonate cement was replaced with iron oxides (also by groundwater). The cement dictates how the sandstone weathers (or erodes). The sandstones in the upper part of the bluffs have a higher amount of calcium carbonate and are more resistant to weathering, creating the "ledges" that occur throughout the park.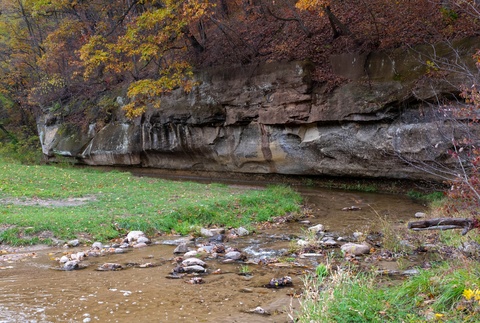 Ledges State Park appears in its present-day form due to the advance and retreat of continental ice sheets during the Quaternary Period (2.6 million years ago – present). The Des Moines River and its tributaries were established 14,000 to 11,000 years ago during the wastage of the Des Moines Lobe glacier. Meltwater carved through the glacial deposits and underlying Pennsylvanian bedrock, shaping the picturesque bluffs along Pea's Creek. This downcutting has left erosional features, such as scalloped ledges and smoothly rounded faces that showcase the power of water flowing at a rate and volume much greater than the creeks we see in the park today.
The Civilian Conservation Corps constructed many of the structures (trails, bridges, shelters) at Ledges State Park during the 1930s using native timber and fieldstones (glacial erratics).
This park offers the chance to engage in a variety of outdoor activities: Canyon Drive provides motorists with spectacular views of the Des Moines River valley and Pea's Creek canyon; there are five picnic areas and two shelters; over four miles of trails offer spectacular views (Crow's Nest, Inspiration Point, Table Rock); and easier treks lead to Lost Lake or through restored prairie. There are a variety of camping options, as well as an access point to the Des Moines River for those interested in fishing, canoeing, or kayaking. During the winter months some of the trails and Canyon Drive (although closed to vehicles) can still be accessed for hiking, snowshoeing, or cross-country skiing.
Ultimately, Ledges State Park is a fantastic place to escape the daily grind and experience some of the natural wonders of Iowa.