On most clear, moonless nights, patient skywatchers can see a meteor, a streak of light produced by a piece of interstellar material entering the Earth's atmosphere at high speed. If the piece is large enough, it may actually fall to the ground and then is called a meteorite. Iowa's largest meteorite impact occurred in southern Pocahontas County, just north of Manson, 74 million years before the state was inhabited.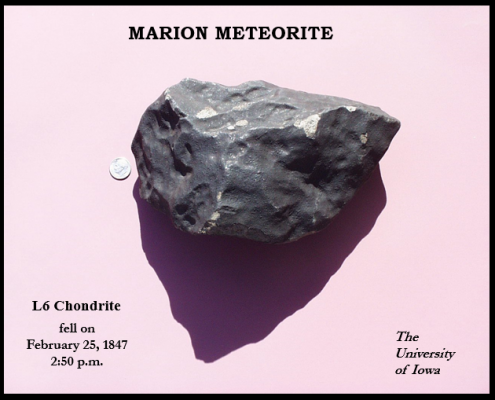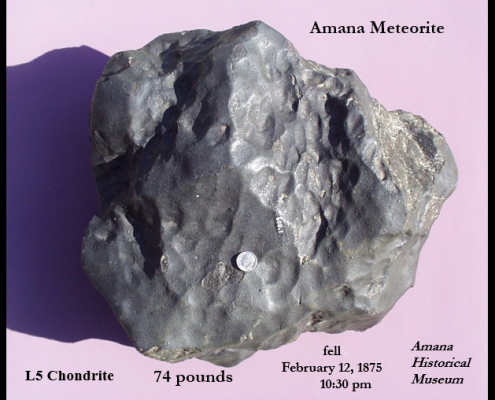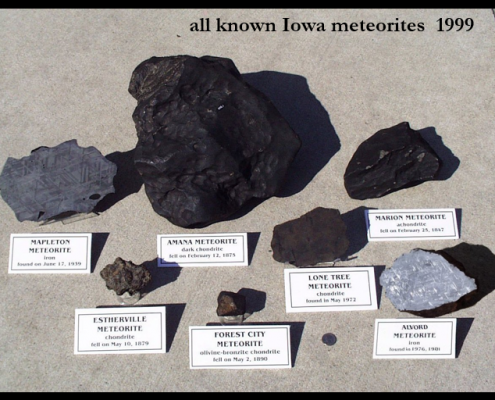 Marion Meteorite
The first historic Iowa meteorite fell south of Marion in Linn County just before 3 pm on Feb. 25, 1847, the day that legislation establishing the University of Iowa was signed into law in Iowa City, which was then the state capitol. Residents of Iowa City were alarmed by the series of loud explosions to the north. The largest fragment is on display in the Old Capitol Building
Amana Meteorite
Just before 10:30 pm on the wintry evening of Feb. 12, 1875, a brilliant fireball dazzled people from Omaha to Chicago and St. Paul to St. Louis. Accounts compiled by C.W. Irish, an Iowa City civil engineer, described the blinding light and loud explosions from what he called the "Detonating Meteor." More than 800 pounds of fragments were recovered south of the Iowa River and southwest of Homestead in Iowa County.
Estherville Meteorite
Residents of Estherville in Emmet County received an extra-terrestrial visitor at 5 pm on May 10, 1879. An exploding meteorite roared to Earth along a seven-mile path from south of Superior in Dickinson County to north of Estherville. Three large fragments (weighing 431, 152, and 101 pounds) and hundreds of smaller pieces were recovered. A monument near Estherville commemorates the event.
Forest City Meteorite
Late in the afternoon of May 2, 1890, a meteorite sounding like heavy cannon fire, throwing off sparks, and trailing black smoke exploded about 11 miles northwest of Forest City in Winnebago County. The fall was observed from Sioux City to Grinnell and Mason City, and as far away as Chamberlain, S.D., 300 miles from the Winnebago County impact site. Rock fragments showered an eight square-mile area, and local residents reported a smell of sulphur. As with Iowa's other meteorites, fragments now are widely distributed in museums and private collections.
Mapleton Meteorite
The fall of the Mapleton Meteorite was not observed. The 108-pound specimen was discovered northeast of Mapleton in Monona County on June 17, 1939, by a farmer cultivating corn. Coincidentally, an article about meteorites appeared in the July issue of National Geographicand helped him determine its identity. The meteorite was eventually purchased by the Field Museum of Natural History in Chicago.
Alvord Meteorite
The fall of the Alvord Meteorite was not observed, but a farmer south of Alvord reported seeing an explosion in the sky at sometime around 1915. A 38-pound fragment of the meteorite, an iron octahedrite, was found 13 miles southeast of Alvord on June 5, 1979, by a farmer while chopping silage. A second 39-pound piece of the meteorite was found by his neighbor in the fall of 1981 while plowing. It is estimated that the original meteorite was about 18 inches in diameter. The stone that was found first was sold to the Smithsonian Institute.
If you find a rock that you suspect might be a meteorite, contact a college or university geology department or the Iowa Geological Survey in Iowa City.